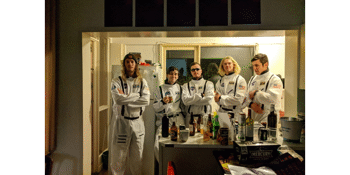 Danitchy (EP Launch)
with Raging Moby, Outtatime
The Workers Club (Fitzroy, VIC)
Saturday, 13 March 2021 8:00 pm
FACEBOOK EVENT
Ear tickling Indie Rockers Danitchy, formed in high school by Daniel Jackson and Mitchell Todd, dipped their toes into experimenting with music, uploading covers to youtube to then later attempt to write music of their own.
Completing their sound with the additions of Harrison Kolevich, Jerome Sutton and Brock Cannon, the band released their debut self-titled EP in 2018 and have been gaining traction with such singles as "Natalieves", "Wanna Be" and crowd favourite "The Pre's Song".
Since then the boys have been pollinating stages all over Melbourne with their tasty tunes round-the-clock with a dynamic live performance that compels concertgoers to get up and boogie down.
Their new EP "Dee Ex Seven" will hit all streaming services late February, followed by a launch show on the 13th of March at the Workers Club.