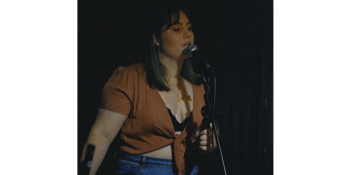 Emma Jury
with MON&B, Ally Eley, Phoebe Bengough
The Workers Club (Fitzroy, VIC)
Sunday, 14 March 2021 7:00 pm
FACEBOOK EVENT
Emma Jury
Her long-awaited debut show will leave you speechless with her warm and sultry vocals, and her powerful songwriting. Emma Jury is a singer/songwriter that has launched herself into the Melbourne music scene with her release of 'Whistle' last November. The single reached the ears of notable Australian author, Bri Lee, who famously wrote 'Eggshell Skull', the novel that inspired Emma to write her chilling debut single.
Calling on her band mates from the electrifying band, Saving Mae, Emma promises to deliver a night of incredible vocal and musical performances. Debuting the songs from her upcoming EP "Orange" but also performing renditions of the songs that inspired her newest creative works.
Phoebe Bengough
Phoebe Bengough is an Indie Fold, singer/songwriter, who enjoys immersing herself in the Melbourne music scene, gigging and busking. Her songs tell of heartfelt stories from past experiences, incorporating folk styles, flowing melodies that will leave you feeling warm and fuzzy.
Ally Eley
Ally Eley is an 18 year old singer/songwriter from the western suburbs of Melbourne. Ally has been singing since before she can remember and started writing songs at 12. Ally hopes her music can make a positive contribution to people's journey and inspire and connect with people.
MON & B + The Slips
MON & B have been singing since the could remember. They recently found a new passion with harmonies and started a band together as MON & B, together they have found a love for song writing and have been experimenting with different sounds and ways of expressing their love for music.
The Slips are a professional backing band based in Melbourne, focused on supporting young artists and bringing their musical visions to life.