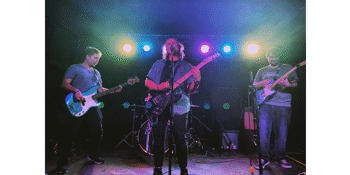 Matinee: No Hard Feelings
with Jean & Josh Beadle, Lou Sol
The Workers Club (Fitzroy, VIC)
Saturday, 23 July 2022 1:00 pm
FACEBOOK EVENT
No Hard Feelings are returning to the stage!
On Saturday the 23rd of July we're heading over to The Workers Club with our mates Lou Sol, Bec Jean and Josh Beadle.
No Hard Feelings is a four-piece from the Northern and Western suburbs of Melbourne, bringing a self-proclaimed 'Pub Pop' genre, filled with catchy tunes, singalong choruses, and breathtaking instrumentation. We invite you to peel back the veneer and uncover heartbreaking tales of loss, addiction, and the struggles of simply getting out of bed. So, come along, sing your heart out, and together we can find solace in the hope that maybe someday, things will work out okay.
Bec and Josh met in the shady discotheques of Melbourne, forming a mysterious indie/folk duo that blends soft vocal melodies with lingering guitar.
The second act of the show will be Angus and Julia Stone-esque atmospheric folk duo, Josh Beadle (from Fennec royalty) and Bec Jean, both accomplished singer-songwriters in their own right.
Emerging from a stale slumber, Lou returns to us with renewed ferocity and vigour, a mullet, and promises of a sea shanty on the horizon. Storyteller of the sometimes-folk, sometimes-comedy, always-queer and never-spotless variety, prepare for love, activism and a bop of two.