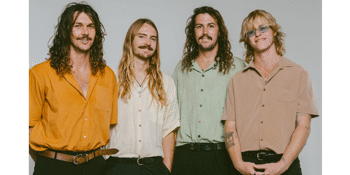 Interstellar Music Presents…
Peach Fur 'Sun Rays' Tour
with Special Guests
The Workers Club (Fitzroy, VIC)
Saturday, 10 September 2022 8:00 pm
Peach Fur are loading up the van and bringing the party with them as they announce an Australian tour to celebrate their brand new single 'Sun Rays'! The new track barrels through speakers with a surge of dreamy guitars and festival-ready, serenading-worthy vocals.

Sit back and get swept out to sea with the tide on this groovy joint as you hear it live for the very first time. 'Sun Rays' marks the second single from their upcoming album 'Earth Radio' to be released late this year.

1kg of rock 'n roll, 1 cup of funk, 2 tablespoons of blues and a sprinkle of reggae, stirred thoroughly in a litre of psychedelic juice and left to cure in a jazzy jar. Badda Bing Badda Boom! The sound of Peach Fur.