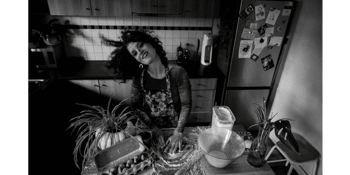 Xani
with Charlie Needs Braces
The Workers Club (Fitzroy, VIC)
Sunday, 23 January 2022 8:00 pm
The Workers Club will be operating under the Victorian State Government vaccination mandate. Therefore, as outlined in the Victorian Roadmap, only patrons, staff and artists who are double vaccinated against Covid-19 will be able to enter the venue.
Customers are required to check-in via the Service Victoria App with a valid Vaccination certificate as they enter the venue.
FACEBOOK EVENT
An Inaccurate History of Electronic Dance Music - by XANI
It was after reading "Last Night A DJ Saved My Life (Bewster/Broughton) - an insightful, witty and exciting read about the history of the disc jockey - that Xani Kolac was inspired to write her new show "An Inaccurate History of Electronic Dance Music".
At its core, this show is a dreamlike imagining of a future when people can get together in dark spaces, with lasers and smoke, and move their sweaty bodies again.
Disc Jockeys up on their risers in clubs have been responsible for spinning and shaping trends in contemporary music throughout history, inspiring musicians and the industry alike. But it is bodies moving together in these spaces that have enabled these trends to grow and flourish. Rumi writes "Whosoever knoweth the power of the dance, dwelleth in God". Now in a post-COVID world, where dancing is a health hazard, the impact is huge on the future of contemporary music.
"An Inaccurate History of Electronic Dance Music" looks back to the creation of disco, techno, psytrance, happy hardcore and more, but also imagines future sub-genres in electronic dance music for a world that can't dance.
And all of this exploration is done by musical alchemist Xani Kolac on violin, vocals, FX, live looping and collaborator Justin Olsson (drums/triggers). In a dark room with lasers and smoke, let's get back to togetherness. And what better way to connect than through moving together and being moved. All to the soundtrack of a new electronic dance music for our times. Let's wonder what that might sound like.