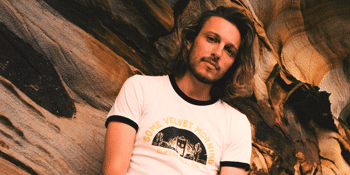 Matinee: "Sound By CT"
with Seb Szabo, Soarsa, Special Guests
The Workers Club (Fitzroy, VIC)
Saturday, 22 May 2021 1:00 pm
FACEBOOK EVENT
Welcome to the first gig put on by Sound By CT. Come and join us on the 22nd May to enjoy some of Melbourne's best live music. We will also be celebrating everything mental health and speaking about our feelings (yay).
CT (Constantly Training) is a not-for-profit organisation that supports people to explore their mental health journey, experiences, hopes and fears. We do this by facilitating Men's circles, Non-binary circles and masculinity programmes.
Since 2019 we have facilitated 66 circles with over 300 attendees. We generate all our funding through the gigs we run and the merchandise we create.
Our first confirmed act is the amazing Seb Szabo. Anchored by a resonant voice and lyrics that paint a soaring, colourful portrait of life, loss and love, Seb Szabo and his band blend cinematic indie rock with charismatic stage presence. A born storyteller with a debut EP set for release in 2021, Seb writes songs built to lift your spirits and empty your lungs.
Our second act is Soarsa, described as Honest, relatable and drinking from a songwriting cup brimming with melody and sweet energy, Melbourne-based singer/ songwriter Saorsa (pronounced Ser-sha) is making waves in the Aussie indie-pop music scene. Embarking on her biggest project to date, Saorsa's debut EP is scheduled for release in mid-2021.