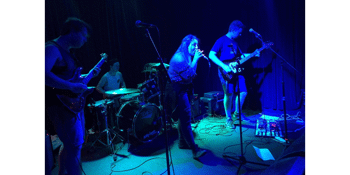 Amber Mic Presents: Silence To Break
with The Mochasins, No Hard Feelings, Louise Sol
The Workers Club (Fitzroy, VIC)
Tuesday, 23 March 2021 7:00 pm
FACEBOOK EVENT
Live music is back in Melbourne & Amber Mic is back to present another show at The Workers Club.
Indigo Nights is a night presented by Amber Mic showcasing a selected lineup of indie bands to bring the good vibes to the people. This Indigo Nights show at The Workers Club features Louise Sol, No Hard Feelings, The Mochasins & Silence To Break.
Hailing from the western suburbs of Melbourne, Silence To Break is a high-energy Pop Punk band with an unapologetic 'hit you in the face' sound matched with soothing female vocals. With songs and riffs inspired by bands like Neck Deep and Parkway Drive, and lyrics of violence, heartbreak, power and escape, STB delivers unique songs that are sure to stay in your head for days.
The Mochasins are an indie rock band with an eccentric personality and electric stage presence: combining the attitude and vulnerability of grunge with the warmth of new-wave pop rock, they are the sonic embodiment of the sweet kick of drinking a hot mocha from a shoe.
No Hard Feelings is a four-piece from the Northern and Western suburbs of Melbourne, bringing a self-proclaimed 'Pub Pop' genre, filled with catchy tunes, singalong choruses, and breathtaking instrumentation. We invite you to peel back the veneer and uncover heartbreaking tales of loss, addiction, and the struggles of simply getting out of bed.
Storyteller and rambler of the sometimes-comedy, sometimes-folk variety, Louise writes songs about the misfortunes of life that unite us either in laughter or tears. When the humour and unhealthy coping mechanisms come down, wear your heart on your sleeve and let's cry together about existence, love and the pain of the past."