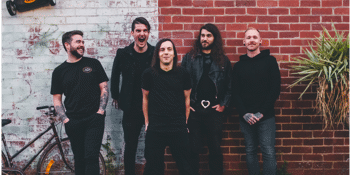 Catholic Guilt
with Dal Santo, Since We Kissed, Idle State
The Workers Club (Fitzroy, VIC)
Thursday, 13 August 2020 7:00 PM
RESCHEDULED - FROM 16 APRIL TO 13 AUGUST
RSVP on Facebook here
Melbourne's Catholic Guilt write raw, emotional and disarmingly honest music for the internally conflicted masses, blending elements of punk, folk and alt-rock to create a sound they describe as 'honest music'.
Catholic Guilt hit 2019 in blistering form with the fierce anti-church child abuse cover up anthem "The Awful Truth" debuting on Triple J and landing on multiple Spotify editorial playlists, with the accompanying video picking up over 10k views.
Fresh off the success of "The Awful Truth" and having their now iconic "Lucy Furr" shirt, BANNED from several schools, workplaces and churches (yes, really) Catholic Guilt keep the momentum going with follow up single "Song of the Renter" a distinctly Australian flavoured rocker with tongue-in-cheek lyrics and a defiant punk rock spirit which debuted on Triple J's Short.Fast.Loud, before finding favour with the likes of Richard Kingsmill "The confidence and vision behind this band is what continues to draw me in. They're doing their influences proud."Declan Byrne and Sally Coleman, as well as earning the band a Triple J Unearthed featured artist spot. The Melbourne AF video for the track was premiered by Music Feeds in Feb 2020.
Joining Catholic Guilt on April 16th will be best buds Dal Santo as well as new friends Since We Kissed and Idle State.