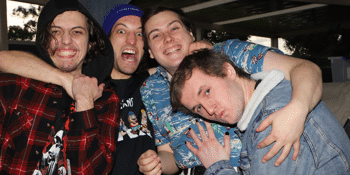 Ghosts of Catalan
with Slurm, Charlie Stafford
The Workers Club (Fitzroy, VIC)
Tuesday, 16 August 2022 7:00 pm
FACEBOOK EVENT
After years of screaming in garages and backyards, the Ghosts of Catalan are finally bringing themselves out of the basements and onto the stage. Probably best described as genre soup, GOC play punk rock, ska punk, metal punk, and punk punk.
A local punk band formed in 2017 with members Lleyton Brown (Guitar, Bass), Tomas Graves (Vocals, Bass, Guitar), Gabriel McMahon-Killingsworth (Vocals, Guitar), and Josh Mravljak (Smacky Sticks). Drawing from influences such as the clash, the dead Kennedys, RATM, and the pist idiots, the band has a unique sound that we're hoping you love.
So, if you want loud heavy music (with the occasional softer song) on a weeknight we will be playing on 16th of August at The Workers Club.
Come see us with special guests Charlie Stafford and Slurm, have a Tuesday drink with us and enjoy our set.