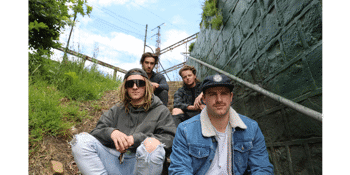 Blew Layn
with Mystery Shack, Stepdad Advice, No Spine
The Workers Club (Fitzroy, VIC)
Sunday, 26 December 2021 7:30 pm
The Workers Club will be operating under the Victorian State Government vaccination mandate. Therefore, as outlined in the Victorian Roadmap, only patrons, staff and artists who are double vaccinated against Covid-19 will be able to enter the venue.
Customers are required to check-in via the Service Victoria App with a valid Vaccination certificate as they enter the venue.
FACEBOOK EVENT
Coming off their sell-out debut show, BLEW LAYN are super excited to be back at the Workers Club, Fitzroy, to put on a 'knockout' show on 26th of December!
This time they will be supported by Mystery Shack, Stepdad Advice and No Spine.
With a range of different genres, there will be a great mix of energy and enthusiasm from both punters and performers.
Blew Layn are going to great lengths to put on a blockbuster show.
So, drop your shopping bags and get down to the Workers Club to see BLEW LAYN with friends on Boxing Day.