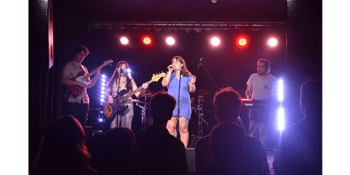 Saving Mae
with Very Early, Jad Pinonne, Bronte Morrison
The Workers Club (Fitzroy, VIC)
Sunday, 2 May 2021 7:00 pm
FACEBOOK EVENT
Performing at the Workers Club once again after an amazing debut show, Saving Mae are bringing a whole new experience on the 2nd of May dubbed "With Power". Playing from Funk to Rock, Saving Mae are featuring a lineup of songs that inspire us, that get us excited about music and most of all, songs that empower us. Artists like Paramore, No Doubt and Dua Lipa have never sounded so good in the one act as they do in Saving Mae: With Power.
Joining Saving Mae are joined by the ethereal Bronte Morrison, the evocative Jad Pinonne, and the enthralling Very Early.
Bronte Morrison
Bronte Morrison is a Melbourne based singer-songwriter, who loves Folk, Jazz and listens to a hell of a lot of Neo-soul. Accompanied by her acoustic guitar, Bronte's narrative and illustrative lyrics tell intimate stories of her life, and she invites you into moments in her life that have really inspired, or really pissed her off.
Jad Pinnone
The brat who killed the lion. Captivating singer-songwriter Jad Pinnone is an emerging soul out of the fires of the inferno. Manifesting his thoughts and dreams with the power of his evocative voice and performance he is a radiant light.
Very Early
With influences ranging through all sorts of genres, Very Early creates a whole new fresh Melbourne sound that will make you stop in your tracks and rock out!