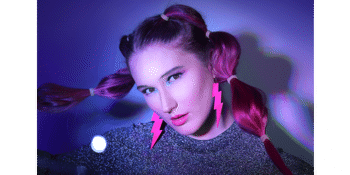 Kitty Rae
with Alzzy, Araminta
The Workers Club (Fitzroy, VIC)
Tuesday, 16 November 2021 7:00 pm
FACEBOOK EVENT
If you haven't heard of Kitty Rae, now is the time to stop and listen.
The Melbourne-based dark-pop artist is creating a reputation for her energetic live shows complete with her powerful vocals, driving rhythms and hard-hitting lyrics. Come along to The Workers Club and join the party for the launch of Kitty's latest single, When Everybody Is Sleeping, supported by two extremely talented singer/songwriters, Alzzy and Araminta.
Alzzy is a Melbourne-based singer/songwriter, full of more soul and grit than meets the eye. Uniquely fusing aspects of indie-pop, neo-soul, RnB, and folk, she creates a sound all her own. Alzzy not only has a wealth of performing experience, having played The Night Cat, Hotel Esplanade, and festivals including St Kilda, Frankston, and Forest Edge, but is a published songwriter with Universal Music Publishing and Left Hand Publishing. Through the music she makes, Alzzy hopes to inspire, encourage, and even challenge others to realise their own potential.
Araminta is a rising singer-songwriter from Melbourne, Australia. Her soundscape is created from a fusion of hip-hop and modernised soul, soaked in a whole lot of attitude. Produced within her bedroom walls, Araminta's witty lyrical flare and playful use of rhyme is drawn from artists such as; Mac Miller, Ari Lennox and Jhené Aiko. With project releases in the works, her quick pen and soulful vocals keep her audience both curious and terrified of what she might say next!
Kitty Rae is on the rise. Reminiscent of Lorde, Billie Eilish and Vera Blue – in 2020 Kitty released her debut EP, The Prelude, followed by her latest single, RED LIGHTS, accompanied by a powerful music video. When Everybody Is Sleeping is a song dedicated to late night adventures with her childhood friends, and that cathartic feeling of freedom when you're awake as the world is asleep.
Kitty Rae – it's only the beginning.