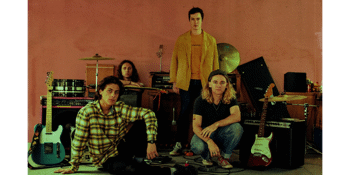 The Sugar Plum Fairys
with The Flock, In Transit
The Workers Club (Fitzroy, VIC)
Wednesday, 20 October 2021 7:00 PM
THE SUGAR PLUM FAIRYS are a four-piece alternative rock band from Melbourne, Australia. Fronted by James Weatherby (guitar/vocals), the band consists of Will Smith (guitar), Aidan Buckley (bass) and Harrison Leitch (drums).

Inspired by a multitude of bands, ranging from Pink Floyd to Tool, the plums fabricate smooth melodic riffs and forthright lyrics that will either put you in a state of melancholy or ecstasy.

On July 9th the plums launched their first single 'Kurt' a track which is off their upcoming debut EP, set for release late 2021.