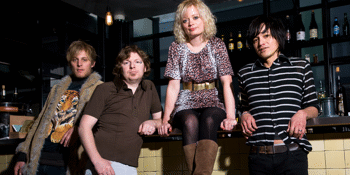 Matinee: The Gems (Single Launch)
with Ragged Company, Cam Muncey (Solo)
The Workers Club (Fitzroy, VIC)
Saturday, 16 December 2023 1:00 pm
FACEBOOK EVENT
After a 4 year hiatus,
The Gems
return with a brand new single 'To Give Love', which will be launched at the wonderful and Fitzroy-cool Workers Club.
The local Melbourne 4-piece guitar-driven pop/rock with lots of boy/girl harmonies will unleash all their pent-up kerrangs, thunders and crashes, show off their boots and play music that's right in the pocket between rock 'n' roll and melodic. Think Fleetwood Mac borrowing guitars from You Am I, playing Stonesy hooks with a Pretenders sassy.
The Gems released a full length album in 2009, titled
The Middle 8 Is A Hundred Bars
, as well as a
double single
in 2019.
This matinee show will be opened by the handsome guitarist of Jet,
Cam Muncey
, performing his songs solo. He might even wear flare denims.
The second act will be
Ragged Company
- also handsome, but with several bruises. They will transport you back to the 70s and remind you of when the Rolling Stones were recording in their mobile truck. With a sprinkling of Americana, this band is perfect for beers.
The Gems would love to see you, shake yer hands and have a chinwag about popping bubble wrap.