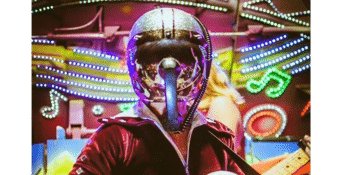 Matinee: Bob Log III
with Baby 8, Persecution Blues
The Workers Club (Fitzroy, VIC)
Sunday, 7 March 2021 1:00 pm
FACEBOOK EVENT
Come down to the Workers Club,Fitzroy on Sunday March the 7th.
Smack bang in the middle of the Labour Day long-weekend,from 1-6pm there will be three acts certain to get you moving.
First up are the new guns.Persecution Blues.Trapped deep in rock-n-roll heaven(and hell)they have soaked up as much volume as their neighbours can handle,and are ready to release it on you.Get there early,and up the front to check them out.
Next up is a Baby 8.A powerhouse band,two singers and plenty of grunt.They build a sonic bridge from rock-to-pop.DO NOT MISS THEM.You will be singing their songs in your head for weeks after this gig!
Bob Log III is a one-man-band.'He plays old Silvertone archtop guitars, wears a full body human cannonball suit, and a helmet wired to a telephone receiver, which allows him to devote his hands and feet to guitar and drums'
And he is coming to the Workers Club in daylight,just for you!
Tell your friends,tell your enemies!
Limited capacity.Pre-sale tickets available until SOLD-OUT.