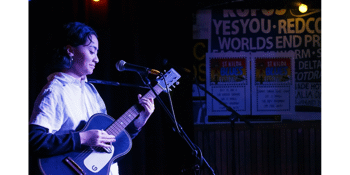 Matinee: Kira
with Narakye, Isobel Caldwell
The Workers Club (Fitzroy, VIC)
Sunday, 5 June 2022 1:00 PM
The Workers Club will be operating under the Victorian State Government vaccination mandate. Therefore, as outlined in the Victorian Roadmap, only patrons, staff and artists who are double vaccinated against Covid-19 will be able to enter the venue.
Customers are required to check-in via the Service Victoria App with a valid Vaccination certificate as they enter the venue.
FACEBOOK EVENT
Spend your Sunday afternoon in the warm atmosphere of the Worker's Club, embraced by three indie folk artists; Isobel Caldwell, Narakye and headliner Kira. You will be welcomed by the whimsical tunes of Isobel Caldwell, who endeavours to traverse the confusing maps of love and loss in her songs. With a delicate balance of soft and soaring vocals, and lilting guitar arrangements, her music has been described as a meditative warm hug; if there was ever a time we all need one of those, it's now. She will then be followed by the melodically driven Narakye who is equally as determined to connect with the audience through her emotive songs. With the backdrop of her band, she creates an optimistic, heartfelt performance that will leave you with a full heart and an open mind. Finally, you will be farewelled by the sincere and angelic tones of Kira who brings to you a catalogue defined by the last two years. You will leave feeling empowered in a soft but unwavering and indescribable way.