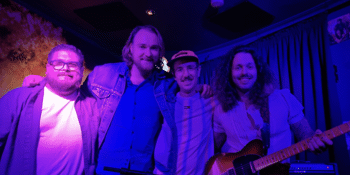 Matinee: Blue Thunder
with Whittens Lane, Hinrichsen, Menon, Schmidt
The Workers Club (Fitzroy, VIC)
Sunday, 23 January 2022 1:00 pm
The Workers Club will be operating under the Victorian State Government vaccination mandate. Therefore, as outlined in the Victorian Roadmap, only patrons, staff and artists who are double vaccinated against Covid-19 will be able to enter the venue.
Customers are required to check-in via the Service Victoria App with a valid Vaccination certificate as they enter the venue.
FACEBOOK EVENT
Blue Thunder burst onto the Melbourne music scene with a sold-out debut show after over a year cultivating their sound in 2020/21. An exciting 4-piece rock n roll outfit that brings together influences including Black Rebel Motorcycle Club, Oasis, Nirvana. Blue Thunder brings the vibe live with infectious grooves, thunderous riffs, and powerful vocals. The group are excited to release their first single "Some Beats" alongside Whittens Lane and Hinrichsen, Menon, Schmidt at Melbourne's famous Workers Club Band room.
Come down to dance the night away, and celebrate the launch of this killer new track and the rebirth of Melbourne's live music scene in 2022.