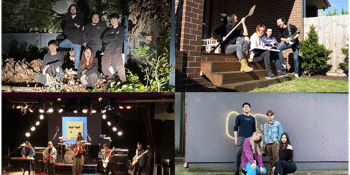 Lill Chii
with Sad Clayton, The Pipe Dream, Negroni
The Workers Club (Fitzroy, VIC)
Sunday, 27 February 2022 7:00 pm
The Workers Club will be operating under the Victorian State Government vaccination mandate. Therefore, as outlined in the Victorian Roadmap, only patrons, staff and artists who are double vaccinated against Covid-19 will be able to enter the venue.
Customers are required to check-in via the Service Victoria App with a valid Vaccination certificate as they enter the venue.
FACEBOOK EVENT
In calling to the Biblical story of Noah's Ark, Melbourne will also have its own musical ark. 'Lill Chii', 'The Pipe Dream' from Luyao Records, Sad Clayton and Negroni will serve as a crew to welcome all music lovers! Please board Melah's Ark on January 16th 2022 to light up The night of The Workers Club!
墨亚方舟》概念取自圣经故事《诺亚方舟》,故事主人公诺亚制造了一艘安全牢固的方舟,保护着幸存的生灵躲过末日洪水的滔天浩劫。而墨亚两字取其谐音,定位了这艘音乐方舟在墨尔本的坐标。如今,墨亚文化将出动陆幺唱片旗下的陆柒乐队与黄粱乐队,携手Sad Clayton乐队与Negroni乐队,共同献上《墨亚方舟·乐队之夜》。墨亚方舟将承载着墨尔本所有音乐爱好者的热情,点燃1月16日The Workers Club的夜晚。