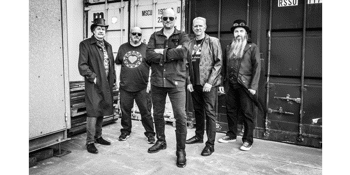 Matinee: Dark Thorn
with City Sharps, The Kruger's
The Workers Club (Fitzroy, VIC)
Saturday, 8 January 2022 1:00 PM
The Workers Club will be operating under the Victorian State Government vaccination mandate. Therefore, as outlined in the Victorian Roadmap, only patrons, staff and artists who are double vaccinated against Covid-19 will be able to enter the venue.
Customers are required to check-in via the Service Victoria App with a valid Vaccination certificate as they enter the venue.
Dark Thorn...musicians from Melbourne Australia that have come together to form a solid diversified rock outfit. Having a strong focus on quality musicianship, the band is delivering a solid vibe and quality rock songs.
All members of the band have been part of the Melbourne Rock and Metal scene for many years and have a massive amount of experience between them.
As the guys stated in an recent interview... "We decided to pool our talents and put together a new and exciting band where all of our individual experience could be used to write songs and share some existing rock material for people to enjoy"
The bands tracks show a variety of rock influences that give the band the sound it has today.
So get ready as DARK THORN brings its SPIKE to the live scene in Melbourne.