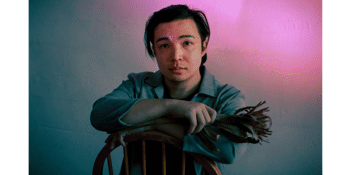 Matinee: Vauus (EP Launch)
with Brev, Oven Gloves
The Workers Club (Fitzroy, VIC)
Sunday, 11 July 2021 1:00 pm
FACEBOOK EVENT
Artist on the rise, Vauus is proud to perform his debut EP Late Summer Glow for the first time at The Workers Club.
Vauus' sound is neon nostalgia spanning many genres from indie rock to RnB.
Late Summer Glow captures an honest youthful reflection of falling out of love, searching for yourself and then finding new love at the end.
Vauus has said that this EP is the soundtrack from the afterparty to the morning after. It's chaotic and grand in expression but lyrically very intimate and honest.
'I feel like myself and a lot of young people live this contradiction of throwing ourselves head first into the beautiful rainbow that is life while also seeing the world coming to an end and wanting to hide under your covers and watch netflix forever. This EP is about that feeling'
Happy Mag said 'Vauus' unique energy and sonic delivery can be compared to Brisbane band Last Dinosaurs, mirroring the way that their tracks can totally take over your body. This is not background music; it's the type of song that demands to be heard and moved to.'