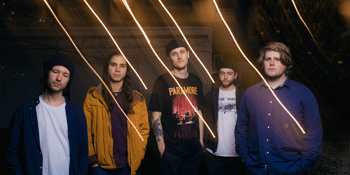 New World Artists presents
Ambleside - Melbourne
with Reside. Earthbound, Weighbridge
The Workers Club (Fitzroy, VIC)
Saturday, 9 November 2019 8:30 PM
RSVP on Facebook here
𝗔𝗺𝗯𝗹𝗲𝘀𝗶𝗱𝗲 are back with the 𝘚𝘵𝘪𝘭𝘭 𝘓𝘪𝘧𝘦 tour.
𝗔𝗺𝗯𝗹𝗲𝘀𝗶𝗱𝗲 have toured the country extensively over the past three years with bands such as 𝘛𝘳𝘰𝘱𝘩𝘺 𝘌𝘺𝘦𝘴, 𝘗𝘰𝘭𝘢𝘳𝘪𝘴, 𝘖𝘤𝘦𝘢𝘯 𝘎𝘳𝘰𝘷𝘦, 𝘛𝘩𝘦 𝘗𝘭𝘰𝘵 𝘪𝘯 𝘠𝘰𝘶 (𝘜𝘚𝘈) and 𝘔𝘰𝘷𝘦𝘮𝘦𝘯𝘵𝘴 (𝘜𝘚𝘈) off of the back of their well received sophomore EP 𝘚𝘩𝘢𝘱𝘦 𝘔𝘦 and last years single 𝘉𝘭𝘶𝘳.
Having recently teamed up with 𝗡𝗲𝘄 𝗪𝗼𝗿𝗹𝗱 𝗔𝗿𝘁𝗶𝘀𝘁𝘀 (boasting artists such as 𝘈𝘭𝘭𝘥𝘢𝘺, 𝘔𝘢𝘭𝘭𝘳𝘢𝘵, 𝘕𝘰𝘳𝘵𝘩𝘭𝘢𝘯𝘦 and more), 𝗔𝗺𝗯𝗹𝗲𝘀𝗶𝗱𝗲 are excited to take their new live show across Australia for the first time in over a year.