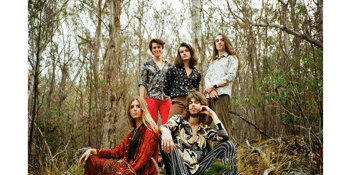 Sunflower 'Get Yourself Together Tour'
with Special Guests
The Workers Club (Fitzroy, VIC)
Friday, 30 October 2020 7:00 pm
RESCHEDULED - TO 30TH OCTOBER 2020

With the dawn of a new decade comes the birth of powerhouse group, SUNFLOWER. Hailing from Brisbane, SUNFLOWER are the perfect storm of soul, pop and rock in a stifling musical climate.

The five-piece are the love child of leading frontwoman Kahlia Ferguson and frontman Lawson Doyle - of The Fergies and Port Royal notoriety respectively. The dynamic pair were fatefully drawn together at Bluesfest 2019, struck by one another's raw talent. They quickly discovered a unique musical connection through months of song writing and performing together.

Fortuitously, both lead singers found themselves standing in the ruins of their respective bands within a week of each other. Instead of retreating to lick their wounds, the concept of a brand-new project featuring their paradoxical musicality and seductive mystique quickly came to life.

The band features powerful, seasoned performances by Lawson Doyle (vocals/guitar), Kahlia Ferguson (vocals/keys/guitar), Dan Ferguson (lead guitar), Willow Keith (bass) and Sean Wade-McCue (drums).

Individually the five members have cut their teeth on stages all over the country, including Bluesfest, Caloundra Music Festival, St Kilda Festival, Woodford Folk Festival, Gold Coast's Commonwealth Games Opening Ceremony, Live En Aout Music Festival (New Caledonia) and Byron Bay Guitar Festival. They've shared stages with Powderfinger, Jet, Wolfmother, The Delta Riggs, Harts, Frenzal Rhomb and The Jungle Giants.

Their engaging repertoire moves effortlessly through the sultry swagger of Kahlia's blues and the high-voltage energy of Lawson's rock. The exciting blend of their soaring Oasis melodies and evocative Fleetwood Mac chemistry resonates with audiences of all walks of life, who are drawn to SUNFLOWER and their sometimes-contradictory fusion of flavours.

SUNFLOWER are hitting the ground running in the new year with main stage performances at Sydney's Parramatta Park Australia Day Festival and Melbourne's St Kilda Festival.

With one foot rooted in the past and the other firmly planted in the future, SUNFLOWER have the ability to transform the landscape for Australian music.