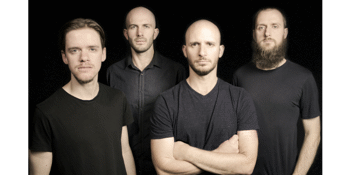 Aronora (10 Year Reunion)
With SENTIA (Single Launch), Cirrus Crown (Debut Show), Geo
The Workers Club (Fitzroy, VIC)
Saturday, 9 February 2019 8:00 PM
Melbourne progressive rockers Aronora return after a seven-year performance hiatus to play ONE SHOW ONLY at The Workers Club on 9 February 2019! Joined by an exciting line-up including SENTIA (launching their new single: Faceless), Cirrus Crown (playing their debut show) and Geo, this night promises to be a stellar presentation and celebration of Melbourne's progressive and alternative rock scene.


Aronora (feat. brothers Chris Cameron and Ben Cameron of Acolyte fame), released their debut album 'Escapology' in 2015 just following frontman Ben Cameron's relocation to London. Since his return from Europe in 2017, the group have reunited to perform music from Escapology, their self-titled EP alongside some adventurous previously un-released material.

Following on from the successful release of their last single Bruisin', SENTIA are hitting the stage again in support of their latest release: Faceless. SENTIA's strength, passion and raw emotive energy has been shown in the band's captivating live shows and has continued to set them apart in the Australian alternative scene.

Armed with a solid lineup, Cirrus Crown is a new alternative/progressive rock band conceived by former Acolyte and Fading Hour guitarist Pete Borzeta. They have spent the past twelve months forging and refining their sound and preparing for their debut live performance - 2019 is shaping up to be a landmark year for Cirrus Crown.

Opening the night will be Geo: a four-piece band of groovy, funk-alicious prog rock. Their music contains an eclectic array of musical elements including progressive rock and metal, jazz, funk and fusion so be ready to get in the prog zone early on!

With the combination of a reunion show, single launch and debut show, this night promises to be massive and a must-see event early in 2019! Tickets are available for purchase through The Workers Club website / Oztix or at the door, but take the opportunity to book early as there's anticipation that this may become a sold-out event.