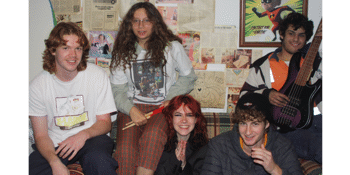 Matinee: Karen Took The Kids (Single Launch)
with The Tax Evaders, Flower Field Folly
The Workers Club (Fitzroy, VIC)
Sunday, 29 August 2021 1:00 pm
FACEBOOK EVENT
Formed in 2018, Karen Took The Kids are an up and coming Garage Rock / Indie band from Melbourne's South-east suburbs. Consisting of Lucy Robertson (Vocals), Clancy Brett (Guitar), Jono Pardo (Bass), Kyla Fanstone (Drums) and James Radford (Guitar), the band made beginnings in high school, playing several shows in their local area.
Karen Took The Kids present unmatched, youthful energy both on stage and in the studio, playing with the likes of Chloe James and The Midnight Band, HZED, and The Silent K. The release of their debut single "Postcode Anxiety" in 2021 created a stir amongst both Australian and international audiences, with fans reaching as far as Canada and the UK.
With sounds similar to household Australian acts Skegss and Ruby Fields, or well known acts in the local Melbourne scene such as The Grogans and The Belair Lip Bombs, Karen Took The Kids provide a show you will not want to miss: slinky chords, stanky garage riffs and quirky yet resounding storytelling are all some of the things you can expect from this Melbourne 5 piece.
Come join Karen Took The Kids with The Tax Evaders and Flower Field Folly on the 29th of August for an epic afternoon of dancing for our "Fever" single release party at The Workers Club! The event is 18+ (U18s must be accompanied by a parent / guardian) and will run until 5pm with doors at 1pm.
We hope to see you there!