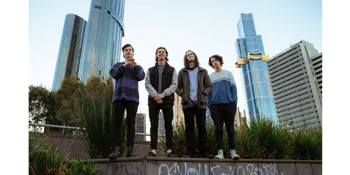 Matinee: Tudor Club
with Jeb Ross, Sesh Lamb, Barefoot Avenue
The Workers Club (Fitzroy, VIC)
Sunday, 20 February 2022 1:00 pm
The Workers Club will be operating under the Victorian State Government vaccination mandate. Therefore, as outlined in the Victorian Roadmap, only patrons, staff and artists who are double vaccinated against Covid-19 will be able to enter the venue.
Customers are required to check-in via the Service Victoria App with a valid Vaccination certificate as they enter the venue.
FACEBOOK EVENT
Melbourne Music Management Presents TUDOR CLUB with Special Guests- Barefoot Ave, Sesh Lamb & Jeb Ross Music! Tudor Club combines foot-stomping rhythms and catchy guitar riffs, Tudor Club is a fresh and exciting young band hailing from the eastern suburbs of Melbourne.
Putting a new twist on the familiar indie-rock sound, each of the 4 members bring their own unique style to the band, citing influences such as Arctic Monkeys and Spacey Jane.
Playing multiple shows around Melbourne has seen Tudor Club progress exponentially in 2021, with much more in store for 2022.
Barefoot Ave and brothers from other mothers that will rock your socks off until you too, are barefoot.
Sesh Lamb are an incomparable and undeniable force of rhythm and soul that will have their original songs stuck in your head for weeks!
Jeb Ross is fresh out of 2021 with the quickest rise to the top we've seen in years. He spits a rhyme like its 1990 and accompanies his vocals with otherworldly beats that'll leave your arms in the air for hours.