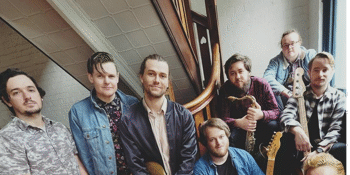 King River Rising
with Torbrek, Tombolo
The Workers Club (Fitzroy, VIC)
Tuesday, 12 November 2019 8:00 PM
$10 entry on the door.
RSVP on Facebook here
Spring Fling is here and ready to bring you fresh vibes from 3 unique artists, come find some new sounds to fall in love with as Melbourne starts to heat up!
King River Rising are a groove group that push the boundaries of Reggae Rock while paying homage to the genre's predecessors. Going from strength to strength following the release of their debut EP Lucid, these boys will be sure to get you moving. Joining them are Torbreck, are a high energy 6 piece instrumental band fusing a wide range of genres into songs that groove and turn in unexpected ways that take the listener on a journey with each tune, and Tombolo, a dynamic singer/songwriter from the sticks of Warrandyte performing "homegrown" alt-folk that evokes deep ruminative thought, healing and imagination. Tombolo is in his element onstage, his husky voice & whispering instrumentation, engaging listeners from all walks of life.
This eclectic line-up truly has something for everyone.