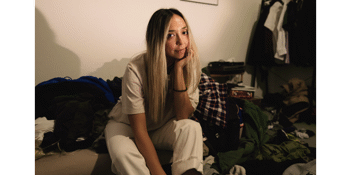 Saint Victoire (EP Launch)
with Velvet Archers, Bahlin Wishart
The Workers Club (Fitzroy, VIC)
Wednesday, 16 February 2022 7:00 pm
The Workers Club will be operating under the Victorian State Government vaccination mandate. Therefore, as outlined in the Victorian Roadmap, only patrons, staff and artists who are double vaccinated against Covid-19 will be able to enter the venue.
Customers are required to check-in via the Service Victoria App with a valid Vaccination certificate as they enter the venue.
​​​​​​​FACEBOOK EVENT
Hailing from Melbourne's Outer East, new music project Saint Victoire will be hitting the stage at The Worker's Club on Wednesday 28th July, to celebrate the recent release of her EP titled 'A thing I'd hate to change.'
After making a departure from the music scene back in 2014, following a solid run with folk-outfit Cordial Factory, singer/songwriter Heidi Waddell felt a new vision brewing and brought it to fruition under 'Saint Victoire' named after and in honour of her grandmother who passed away during the Pol Pot regime in Cambodia.
The EP features the talent of Matthew C Destry. The pair worked on refining the 4-tracks throughout the latter portion of 2019, eventually being able to lay them down at the tail of last year.
The upcoming show will see the tracks from the EP performed with a full band, along with a collection of new, unreleased material. With a history of musical influences such as Joni Mitchell, Kenny Rogers, Tammy Wynette, Bob Dylan, Simon & Garfunkel, and the list goes on; one can expect a night of storytelling and heartfelt melodies.
You'll want to arrive early to see the night opened by the very talented singer-songwriter Bahlin Wishart, followed by a much-loved crowd favourite, Velvet Archers, who never fail to get the feet stomping.
Don't miss out on Saint Victoire's first show