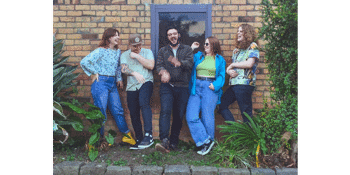 High Homes
with Special Guests
The Workers Club (Fitzroy, VIC)
Sunday, 4 September 2022 7:00 pm
After a sold-out debut at the Colour Club and a year-long hiatus, High Homes are back, fresh-faced and ready to boogie in 2022.

High Homes is Melbourne's newest soul outfit. Fronted by the velvety vocals of Gemma Curtis, the group mix rich and magnetic harmony with classic soul sensibilities to create a dreamy and feel-good sonic experience.

To complete the recipe for High Homes' hypnotic sound you need: a dash of textural guitar from the adventurous Josh Nelson; a pinch of cyborg drumming from resident robot Sam Templeton; a generous helping of smooth bass from groove-man Damien Roach-McCarter; and the cosmic synthesis from piano goddess Ainsley Turner.

Bottom line: High Homes wants to make you feel like you're riding in a spaceship.