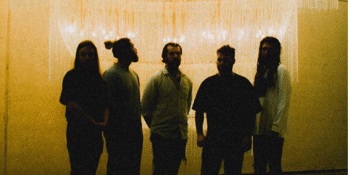 APATE
with Starve, Vengeance, Ovtsider
The Workers Club (Fitzroy, VIC)
Friday, 27 May 2022 7:30 pm
The Workers Club will be operating under the Victorian State Government vaccination mandate. Therefore, as outlined in the Victorian Roadmap, only patrons, staff and artists who are double vaccinated against Covid-19 will be able to enter the venue.
Customers are required to check-in via the Service Victoria App with a valid Vaccination certificate as they enter the venue.
​​​​​​​Underestimate APATE. Go on, I dare you. Beginning like a creature watching from the shadows, the Brisbane based band have developed their craft quietly and unassumingly. Growing into their patchworked sonic skin, APATE are a band who bleed out their experiences, with their songs reflecting a chaos of the mind.
Sharing stages with scene heavyweights like Polaris, Thornhill, Born Of Osiris, She Cries Wolf, and Confession, APATE have already heavily and resolutely delivered the messages their 2017 EP, 'Spit You Out'. APATE's upcoming EP 'Rage' sees the collective advance even further, having honed their songwriting to create six tracks that powerfully (and unsettlingly) express an unraveling mind.
The band will be taking their brand new EP on the Australian highway this December along with their friends Melbourne heavy-hitters Starve and Adelaides Ovtsider.