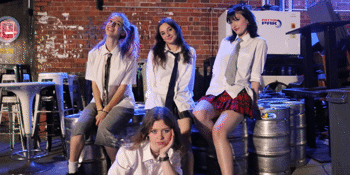 Select All
with Light Music Club, Splitlanes
The Workers Club (Fitzroy, VIC)
Wednesday, 20 December 2023 7:00 pm
Join us at The Workers Club on the 20th of December for a night of music you won't wanna miss!!!

Fresh to the scene, Splitlanes are an alt-rock band from Melbourne/Naarm. The three-piece is comprised of singer-songwriter Art Swaney, bassist Sam Skilbeck-Hawkes and drummer Rory Stephenson. Their style is a blend of soft, ethereal sounds, heavy breakdowns and everything in between.

Based on the Mornington Peninsula, Light Music Club formed in early 2022, and has begun their mission to take over the Melbourne music scene. The five-piece band of old high-school friends perform with a powerful and addictive energy that is sure to get the crowd moving.

Hailing from the underground grunge scene, Select All is an unapologetic four-piece band formed in Melbourne. Their music fuses old-school grunge grit with modern shoegaze tones, with their unrivalled energy and stage presence setting them apart from other acts since 2019.

GET YOUR TICKETS NOW!