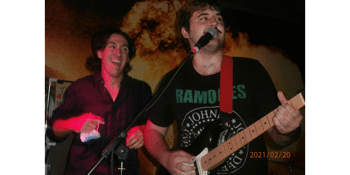 The Bin Stompers
with Strawbz, Glass Elevator
The Workers Club (Fitzroy, VIC)
Tuesday, 4 May 2021 7:00 pm
FACEBOOK EVENT
Join us for The Bin Stompers first ever headlining gig on May 4th at The Workers Club, Fitzroy.
The Bin Stompers are a four piece punk shed-rock band, featuring drummer Edmond Kennedy, Bassist Alex Tyzac, keyboardist and singer Jack Delaney and guitarist and singer Aaron Sheean. After a year isolation The Bin Stompers are hyped to start bringing you live music.
They will be accompanied by opening acts Strawbz and Glass Elevator Music. Both Strawbz and Glass Elevator are from Melbourne's North-east, along with The Bin Stompers. Strawbz is a five piece band, featuring drummer Zac Rodezno, bassist and keyboardist Solomon Britton, guitarist and singer Marcus Bogovič, guitarist Christian Dakis, and lead singer Mitch Cocchiara.
Buy your tickets and get down to The Workers Club on May 4!