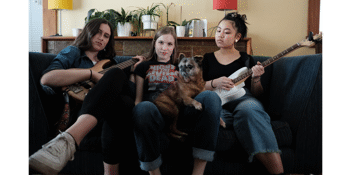 Gecko
with Matt Murray & the Durry Busters, Silence to Break
The Workers Club (Fitzroy, VIC)
Tuesday, 29 October 2019 8:00 PM
$10 entry on the door.

RSVP on Facebook here

Come down on the 29th to join us for a super fun time! With three bands all on different sides of the rock spectrum, you know you're going to be in for a treat.

First up is Silence To Break; a high energy, high gain band with riffs and sing along choruses that you'll remember. With vocals inspired by Tonight Alive and Paramore and riffs inspired by both punk and metal music, Silence To Break will have you up and moving.

Then there's the unmissable Matt Murray & the Durry Busters from Melbourne's west side. A ghastly concoction of punk, jazz, experimental rock, Coopers Pale and half smoked ciggies.
Finally, make sure you stick around for three piece funky punky rock band Gecko. These girls are ready to provide quality tunes for a sweet night of head bangin' AND groovin'. We've got your earbuds covered.

Make sure you don't miss this night of absolute musical goodness! It's going to be one to remember.