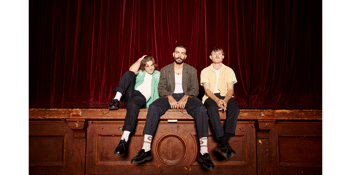 CROCODYLUS – The YOU Tour'
with Special Guests
The Workers Club (Fitzroy, VIC)
Friday, 26 August 2022 8:00 pm
FACEBOOK EVENT
To celebrate the release of new music Crocodylus are excited to announce their east coast 'YOU // Unnecessary Pressure' Tour. Kicking off at The Workers Club in Naarm / Melbourne on Friday 26th August, the band then head up to Meeanjin / Brisbane at Black Bear Lodge on Friday 2nd September and Eora / Sydney at Mary's Underground on Saturday 3rd September.
After 3 EP's and 2020's 'Social Climber' and 'Camouflage' releases, it's a new dawn for Crocodylus with the release of 'YOU' and 'Unnecessary Pressure'. It marks the start of an exciting period for the band which will see the release of their debut album they've been working on with Jake 'Pencil' Voroshine from Le Shiv in the producer chair.
"Over the heavy pandemic periods, there have certainly ups and downs," guitarist Stephen Sacco said. "Having minimal to no shows to play was unfortunate but it also meant we could use the lockdown and restricted periods to our advantage to demo, record and prepare our debut album properly," he continued. "We've been sitting on it for a minute, but it's been incubating long enough, and needs to see fresh air," Mikel added. "We'll be touring extensively in support of it. So look out for us!"
Josh, Stephen and Mikel formed Crocodylus in high school in 2015. The band have built up a fervent fan base in Australia and around the world ever since. They also have gained much respect in the artist community as one of the hardest working bands around, performing at every opportunity including regional Australia with Skegss, nationally with The Chats, tri-headlining with A. Swayze & The Ghosts and Voiid, as well as popping up for hometown shows supporting the likes of Ocean Alley, Dune Rats, Psychedelic Porn Crumpets, Hockey Dad, The Jungle Giants and more. Throw in some festival appearances across the country at Panama, NYE on The Hill, Bad Friday, Yours & Owls and Sounds of the Suburbs and a couple of sold out headline dates along the East Coast for good measure. In 2022, The Crocs are stepping it up to exciting new heights.