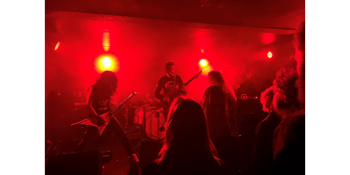 Escarion
with The Nuremberg Code, Thallium
The Workers Club (Fitzroy, VIC)
Friday, 1 July 2022 7:30 pm
FACEBOOK EVENT
Escarion is BACK making their triumphant return to the legendary Workers Club alongside Lunar Deity and Thallium.
Lunar Deity are a four piece female fronted metal band, who pride themselves on their groove, rhythmic prowess and melody.
Thallium is an old-school Death Metal band who have kick-ass riffs and are guaranteed to make you bang your head. This is their DEBUT gig on the scene!
Last time Escarion played at The Workers Club it was a night of extremes: moshing, stage dives, crowd surfing, drinking and of course, intense kickass metal.
This time, they want all this and more!
Come down to the Workers Club on Friday the 1st of July for a night of extremity and indulgence for all those thirsty for metal and live music.