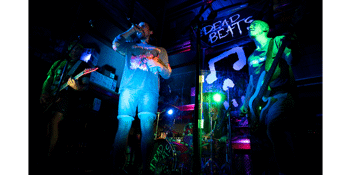 Matinee: Deadbeats (Single Launch)
with Sidesplitter, Too Far Gone, Dead Eye Llama
The Workers Club (Fitzroy, VIC)
Saturday, 27 August 2022 1:00 pm
FACEBOOK EVENT
The Deadbeats are back and ready to hit the stage in the wake of their latest release at The Worker's Club on the 27th of August.
As the third single from upcoming album 'Sedatives for the Cynic' set for release late 2022, 'Faces' draws its audience with powerful vocals backed by heavy, punk instrumentals that soon send its listeners into a frenzy.
'Faces' will accompany the previously released singles on all streaming platforms from Friday 19th August.
The Deadbeats will be joined by Sidesplitter, Too Far Gone and Dead Eye Llama making for a high-spirited afternoon of punk rock in all its glory!