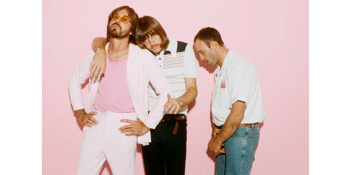 Presented By: Lonely Lands Agency
Le Shiv – The Wait is Over
with Special Guests
The Workers Club (Fitzroy, VIC)
Saturday, 5 March 2022 8:00 pm
The Workers Club will be operating under the Victorian State Government vaccination mandate. Therefore, as outlined in the Victorian Roadmap, only patrons, staff and artists who are double vaccinated against Covid-19 will be able to enter the venue.
Customers are required to check-in via the Service Victoria App with a valid Vaccination certificate as they enter the venue.
Le Shiv is a 4-piece indie/alt/rock/psych-pop band who hails from Australia and splits their time between Sydney and Los Angeles. Pencil, Jarleth, Mossy (formerly of The Ruminaters) and Chris (of All American Rejects fame) deliver searing guitars, ear-hooking melodies and gut-punching lyrics through songs that will either make you dance or cry, sometimes both.
Prior to the world changing, the band found early recognition with their music appearing in cross platform advertising content, toured across Aus, NZ and US as direct support for Grouplove and Lime Cordiale. Even after Covid hit and changed the music industry, they still were able to find success with Triple J. As an influential tastemaker and Australian lynchpin to global success, Triple J added their latest single 'I'm Fine, I've Said Too Much, But How Are You?' and selected it to be their #1 focus for their highly reserved Unearthed programming slot. Though the boys have been cooped up and locked down this past year, the lockdown has only creatively stimulated them to write a cadre of new songs. As 2022 unfolds the band will continue releasing a steady stream of new material, starting with 'The Wait is Over' in mid January. Touring will (finally!) begin, starting with a hometown, sold out Sydney show welcoming back their fans and followed by an Australian headlining tour before embarking across the pond.