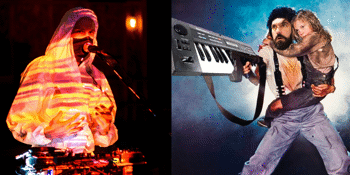 Bribery vs. Encrypter
with B.C Slumber vs. Gosti
The Workers Club (Fitzroy, VIC)
Wednesday, 17 August 2022 7:00 pm
FACEBOOK EVENT
BRIBERY vs. ENCRYPTER in the Boiler Quad
Brave the winter and join the spectacle as a quadraphonic team of electronic audio manglers go head-to-head in an epic, hardware-only, boiler-style electronic face-off. There are no DJs, no laptops, and no "press play" sets - just raw electronic production from some of Melbourne's finest underground performers. The Boiler Quad will be constructed featuring walls of synths, drum machines, audio processors, and a small fish tank featuring a very cute axolotl.
Get close to the action as glitch doctor BRIBERY is pitted against his techno-wave rival ENCRYPTER in a set-to-set showdown. They will rain down square wave distortion, stuttering/pounding beats, mangled vocals, sampling insanity, and disgustingly beautiful synths in a bid for the electronic throne. Only one will survive.
Before the main battle begins, allow yourself to be sonically swept off your feet by the ambient mists of B. C. SLUMBER as they intertwine with the sanguine melodies of GOSTI. Don't be afraid to cry at the intense beauty of the soundscapes that will appear before your bewildered eyes.