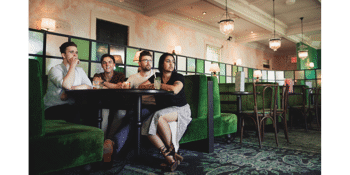 Real Good Company (Single Launch)
with Social Street & The Funk Souljas, Fletcher & The Funk Messengers
The Workers Club (Fitzroy, VIC)
Thursday, 4 March 2021 7:30 pm
FACEBOOK EVENT
What better way to kick off 2021 than getting down for another groovy gig with Real Good Company to celebrate the release of their upcoming single, Twenty20!
The funk/soul/pop/overall-good-time, four-piece have been working incredibly hard on laying down some of their most well-loved tracks and can't wait to give you another song to boogie too. There'll be plenty of of your favourite RGC originals as well as a sprinkling of the energetic covers you've come to love them for.
Supported by the offensively soulful sounds of Social Street & the Funk Souljas and the funkiest of beats courtesy of The Phunk Messengers, it's a night of soul and funk that you won't wanna miss.