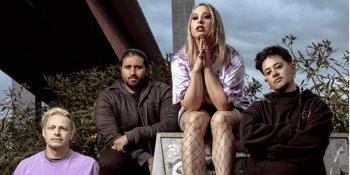 Presented By: Destroy All Lines and Yeah That Agency
The Last Martyr
with Heartline, Special Guests
The Workers Club (Fitzroy, VIC)
Saturday, 4 September 2021 8:00 pm
FACEBOOK EVENT
The Last Martyr have returned in 2021 with a new single, 'Hindsight,' a fierce tune with bounce that almost makes you forget that you allowed yourself to be manipulated.
Produced by Windwaker's, Chris Lalic,' the first demo of 'Hindsight' was written by newcomer to the band, Ricky Andres (bass), bringing a modern electronic and nu-metal influence to TLM's heavy rock sound. The lyrics were downloaded straight to paper in the studio amidst vocalist, Monica, processing a friendship breakdown.
A VHS-inspired music video was released 10 days after the audio directed by Her Name is Murder Productions (Sepultura, Ocean Grove, Redhook) and draws on late-90s influences like Coal Chamber and Korn. The chaotic visuals have been described as something you'd see on Rage at 3am and were premiered through Maniacs
With a new EP, 'Purgatory,' coming out this November, TLM are just getting started in showing why they're a band to keep an eye on.