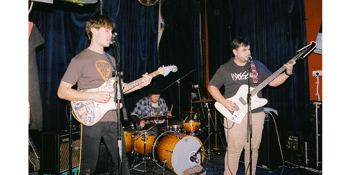 Iris (Album Launch)
with Juicy Fruits, Aaron Rowen-Bell
The Workers Club (Fitzroy, VIC)
Sunday, 27 October 2019 7:30 pm
$10 entry on the door.

RSVP on Facebook here

Since playing their first show in their humble home of Footscray back in May, IRIS have been hard at work playing shows across Melbourne whilst polishing off their sophomore record. The time has come to let this baby fly and to celebrate the release of 'I Can't Beat It' they'll be playing a special show at The Workers Club.

With a sound that's etched in pun-rock, IRIS are an instrument-swapping 3-piece with songs born from beer glass solo's, obscure movie quotes and lawn bowlers. With a style as erratic as their subject matter, IRIS will have you bopping one minute before driving you deep into introspective thoughts the next.

In a thankyou to everyone that's come and supported the band over the last few months, punters that round up the standard 8 buck entry to 10 will receive a CD copy of the new album.