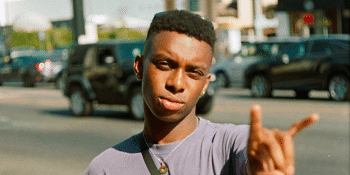 Stevan – Crash Parties
with Special Guests
The Workers Club (Fitzroy, VIC)
Friday, 23 September 2022 8:00 pm
Already a familiar name and sound to the Australian music industry, Stevan's new single "Crash" featuring Virginian based indie artist Tommy Richman is out now.

To celebrate, he is hitting the road for some East Coast 'Crash' parties with his best friends. Coming to a friendly neighbourhood near you.

A self-taught producer, multi-instrumentalist and songwriter, Stevan's music combines rich, textual percussive cues inspired by modern pop and hip-hop with dynamic undercurrents of blues, jazz and global groove classics, all while staying unwaveringly true to his own individual identity. A commanding and compelling performer, fans across the globe have been captured by Stevan's magnetism from his first releases. As Stevan now step into the next era of his creative journey via new label Purple Phase/Warner Music Australia, it is this charisma and personality that sets Stevan apart – his relatable, human-first approach welcoming fans to join him on the ride, sharing the adventure every step of the way.

Of the signing, Purple Phase collectively add "Stevan is a world-class talent, with endless potential and ambition to match. We are so proud and excited to present Stevan as our first signing."

With praise from global press, significant touring highlights (including tours with The Rubens, Omar Apollo and forthcoming festival slots at Splendour In The Grass and Yours & Owls), plus a catalogue with over 10 million streams coming from only a handful of singles and EPs, Stevan's young career to date underpins the appetite for his infectious brand.

Stevan's hands-on approach to his creative process, combined with his tireless self-belief and ambition, means that whatever comes next from the buddying young artists will be an authentic and insightful peek behind the curtains into Stevan's mind.